Before welcoming the newest edition of the Melbourne Cup, you might want to know the name of the winner of the previous event.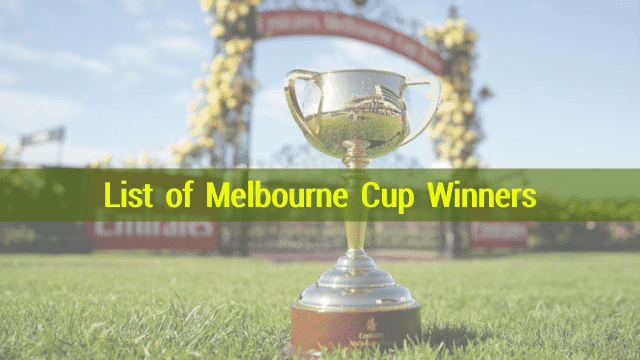 List Of Melbourne Cup Past Winners (2000-2020)
| Year | Winner | Trainer | Jockey | Time |
| --- | --- | --- | --- | --- |
| 2020 | Twilight Payment | Joseph O'Brien | Jye McNeil | 3:17.34 |
| 2019 | Vow And Declare | Danny O'Brien | Craig Williams | 3:24.76 |
| 2018 | Cross Counter | Marmelo | Prince Of Arran | 3:21.17 |
| 2017 | Rekindling | Joseph O'Brien | Corey Brown | 3.21.19 |
| 2016 | Almandin | Robert Hickmott | Kerrin McEvoy | 3.20.58 |
| 2015 | Prince Of Penzance | Darren Weir | Michelle Payne | 3.23.1 |
| 2014 | Protectionist | Andreas Wohler | Ryan Moore | 3.17.7 |
| 2013 | Fiorente | Gai Waterhouse | Damien Oliver | 3.20.3 |
| 2012 | Green Moon | Robert Hickmott | Brett Prebble | 3.20.4 |
| 2011 | Dunaden | Mikel Delzangles | C.P. Lemaire | 3.20.8 |
| 2010 | Americain | Alain De Royer-Dupre | Gerald Mosse | 3.26.8 |
| 2009 | Shocking | Mark Kavanagh | Corey Brown | 3.23.8 |
| 2008 | Viewed | JB Cummings | Blake Shinn | 3.20.4 |
| 2007 | Efficient | Graeme Rogerson | Michael Rodd | 3.23.3 |
| 2006 | Delta Bluess | Katsuhiko Sumii | Y. Iwata | 3.21.5 |
| 2005 | Makybe Diva | D.L. Freedman | Glen Boss | 3.19.1 |
| 2004 | Makybe Diva | D.L. Freedman | Glen Boss | 3.28.5 |
| 2003 | Makybe Diva | D.J. Hall | Glen Boss | 3.19.9 |
| 2002 | Media Puzzle | Dermot K. Weld | Damien Oliver | 3.16.9 |
| 2001 | Ethereal | Shelia Laxon | S. Seamer | 3.21.0 |
| 2000 | Brew | Michael Moroney | Kerrin McEvoy | 3.18.6 |
Results of the 2020 Melbourne Cup
1st: #6 Twilight Payment
2nd: #21 Tiger Moth
3rd: #12 Prince Of Arran
4th: #17 The Chosen One
For many years, the "race that stops a country" has been won by great jockeys who have become household names in their respective countries.
The Melbourne Cup, a 3200-meter staying event, is held on the first Tuesday in November at Flemington Racecourse in Melbourne, Australia.
Every Melbourne Cup champion, from Archer in 1861 and 1862 through Makybe Diva (2003–2005), has a unique backstory to tell about themselves.
A look at former Melbourne Cup winners might be beneficial in assisting bettors in determining which horse to back this year.
Before going on to more recent winners of the Melbourne Cup, it is important to recognise the greatest horses and jockeys who have ever competed in and won the event.
Archer, a magnificent thoroughbred, was the winner of the inaugural race in 1861. The next year, Archer won the Melbourne Cup for the second time in a row. There are memorials to former winners on the Victoria Racing Club's website, in addition to information on significant triumphs.
Prior to Makybe Diva's victory, a mare had never won the Melbourne Cup more than three times in her career before her. Regardless of how many times she wins, Makybe Diva, who has won the Melbourne Cup three times in a row, is considered to be one of the finest female horses in the world by the racing industry.
As a result of its long and illustrious history of success, the Melbourne Cup has evolved into a world-class thoroughbred horse race. Every year in March, the Melbourne Cup, the world's most prestigious horse race, draws competitors from all over the world to compete for the title of champion.
In 1993, a horse named Vintage Crop (who won the Melbourne Cup despite having traveled hundreds of miles) raised the threshold for this approach of training horses significantly. Crop with a vintage feel. A small number of Vintage Crop bettors were fortunate enough to win a large sum of money as a result of a lucky draw.
A long and hard journey such as this one has the potential to permanently alter the mentality of a Melbourne Cup winner for the rest of his or her life.
The next year, Dermot K. Weld returned to training and rode Media Puzzle to victory in the Melbourne Cup.
Japan was the latest country to win the Melbourne Cup, which occurred in 2006. There hasn't been a single country that has emerged triumphant from the tournament.
In the weeks leading up to the Melbourne Cup, there was a palpable sense of excitement. In the Melbourne Cup Quinella, the Japanese team Delta Blues came out on top over the Australian side Pop Rock in the final.
As a result of an increase in the number of international horses purchased by Australian connections in an attempt to win the renowned two-mile main event, foreign horses now make up a significant percentage of the field in each year's Melbourne Cup.
In 2010, American (2010) and Dunaden (2011), two recent Melbourne Cup champions, were both based in France at the time of their victory in the race.
In 2014, Protectionist, a German-trained raider, was a member of the international raiding team.
Rekindling and Cross Counter, the champions of the Melbourne Cup last year, were crowned champions again this year.
A horse owned by Danny O'Brien named Vow and Declare assisted the Australians in winning the Melbourne Cup for the first time since 2011. The race was held in Melbourne, Australia. (2009)
Whether or if the foreigners reclaim the lead in this race will have an influence on the outcome of the Melbourne Cup, which will take place in Australia in 2020. Tiger Moth came in third place, behind first and second place finishers Prince of Arran and Twilight Payment.
From the year 2000 to the present, a comprehensive list of all previous Melbourne Cup winners has been made available on the internet. Each year's Melbourne Cup winners are mentioned along with their trainers and riders, as well as the years in which they have won the race.